a
a
a
a
a
a
a
a
a
a
a
a
a
a
a
a
a
a
a
a
a
a
a
a
a
a
a
a
a
a
a
a
a
a
a
a
a
a
a
a
a
a
a
a
a
a
a
a
a
a
a
a
a
a
We manufacture your prototype or small series starting from quantity one.
Send us a drawing and a 3D-CAD-model to get a quick offer. We also support you in the design of the components to optimize the production and save costs.
SciMo has two modern CNC production machines, a 3-axis milling center and a 5-axis turn and mill machining center. With this machines a wide range of machining operations can be performed.
Due to our experience in the production of our own drive train components, we are very familiar with the production of thin-walled housing parts, hollow shafts and gear components.
In contrast, we can also precisely machine solid steel parts, which are used, for example, in test sand constructions.
We are the right manufacturing partner for you, if you need a fast and uncomplicated production of your parts.

/// Gear Cutting Technology
For gear cutting we work with the skiving or broaching process.
With the help of our self-developed process and the associated software for generating the machine code, we can produce almost any gear cutting geometry. Deviations from standard or normed gearings are no problem for us.

/// Friction Stir Welding
In friction stir welding, two components are joined without the addition of material. Due to the subsequent milling over of the weld seam, none of this is visible anymore.
We have established the friction stir welding process in our company for the integration of cooling channels in housing parts. The process enables a lightweight, safe and good looking way to close cavities in milled parts.
Many other applications of this process are conceivable. Contact us to learn more about the possibilities of this innovative process.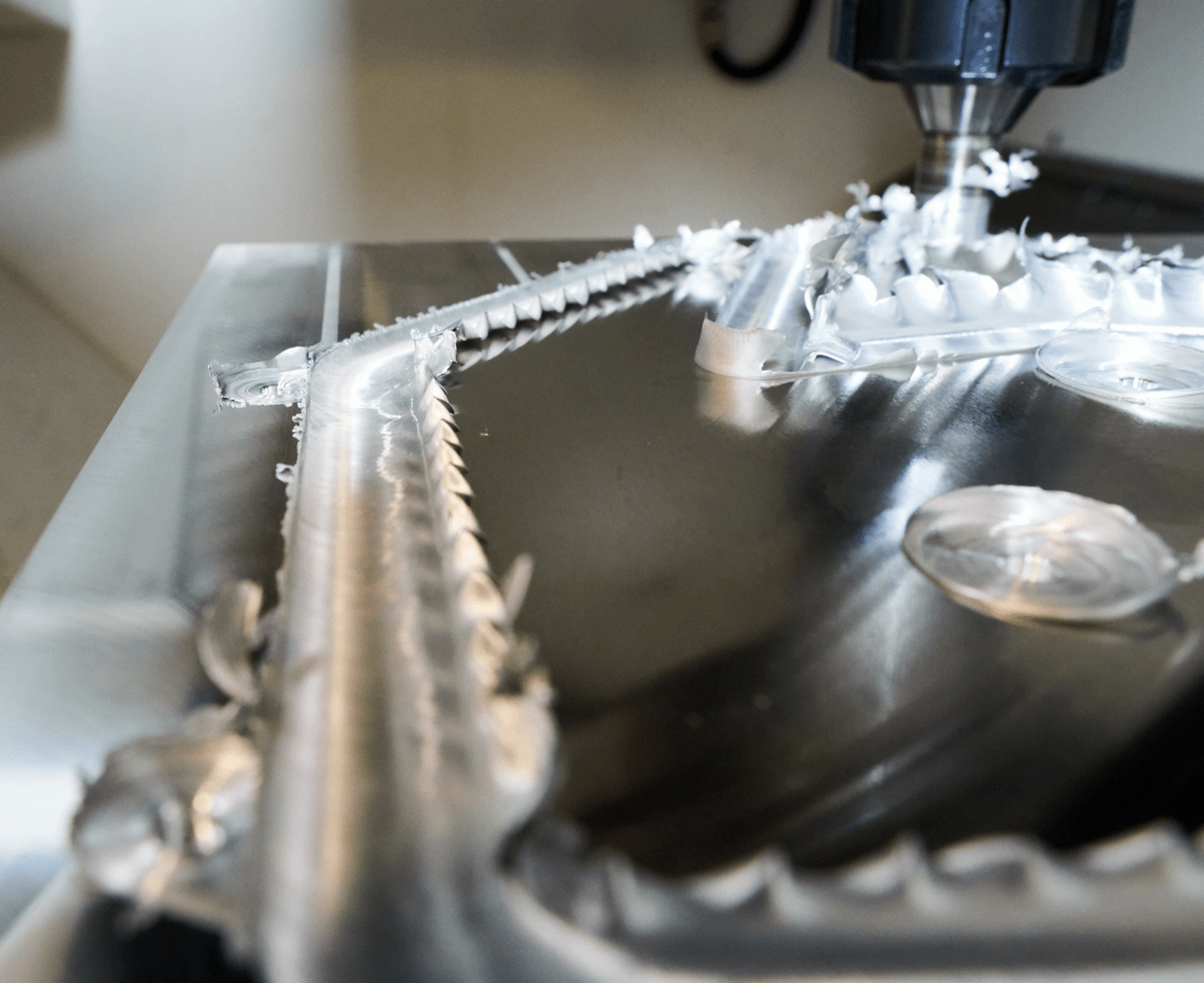 /// Thin-walled Aluminum Parts
Light, thin but nevertheless stable aluminum parts are our daily business.
We always have a selection of aluminum raw material of different alloys in stock to be able to react quickly to your request.
3-axis vertical milling center
5-axis Turn & Mill Complete Machining Center
| | |
| --- | --- |
| Max. turning diameter (mm) | |
| | |
| C-Axis: Integrated spindle motor (rpm) | |
| | |
| Max. bar work capacity (mm) | |